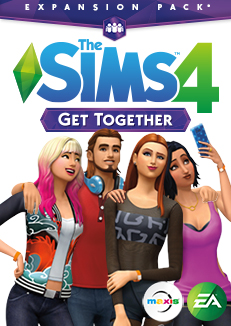 Release Date: 10th December 2015 (UK)
Type: Expansion Pack
Price: £34.99
Original Price: £29.99
Information:
Create and join a variety of Clubs where you set the rules in The Sims™ 4 Get Together.
Key Features:
Create unique Clubs:
You set the rules, select the members, and customize the exclusive hangouts in The Sims™ 4 Get Together. Sims in a Club will follow your rules when they're together, giving you new ways to play with your Sims.
Join Clubs & meet new Sims:
Whether you're getting stylish with the Paragons or enjoying a delicious meal with the Upper Crusts, there are a variety of interesting Clubs to explore. As you play with Clubs, you'll unlock perks including secret handshakes, social boosts and more!
Get together & live it up:
Take on other Sims in foosball, darts, and Don't Wake The Llama. Get cozy with your special someone or dance around the bonfire. Plus show off your best cannonballs and make a splash with the new jumping platform.
Rule the dance floor:
Thrill partygoers with new DJ & Dancing skills. Excite the crowd in the DJ Booth. Then jump onto the dance floor and challenge other Sims to a fantastic dance contest!
Explore a new world:
Discover the beautiful new world of Windenburg in The Sims™ 4 Get Together! Enjoy an afternoon Sim-watching at the outdoor café, enjoy drinks at the local pub, or explore the mysterious ancient ruins.
Official Trailer: